From the Layout window, open the CAD section of the Ribbon. Select the Rectangle command in order to draw a rectangular shape in your project. Manually draw a rectangle, selecting the first point with your mouse; this will become your tub surround. If desired, you can start from an angle of your room and enter the exact dimensions of your tub surround. Hit the Enter key when you've drawn your rectangular shape.
From the context menu, select the command "Create object". In the popup window that appears, you can specify parameters such as height and elevation, name your object, and apply a material to object (this can be done later, as well).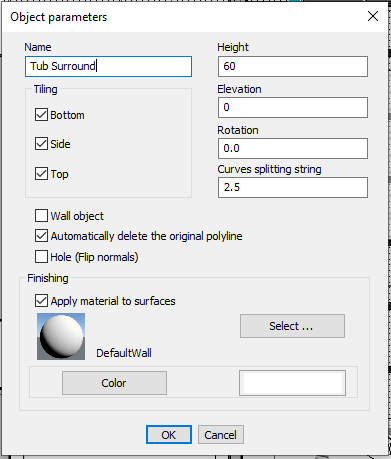 Click OK and your 3D object (i.e. your tub surround) will be inserted into your project.
Next, find the desired bathtub that you want to insert into the surround. You can search for a "drop-in" bathtub by typing "drop-in" in the search bar (you may also try the keywords "autoforante" or "da incasso"). The bathtubs that you find in the drop-in category will drop into a surround, automatically inserting themselves correctly into any 3D object.
Position the bathtub on the 3D object by using the H key of the keyboard (How to position a sink on a surface (H Key))
Lastly, update your view in the navigation window to view your changes:
If your tub is not displaying correctly, check that the elevation of the tub is correct and ensure that the tub selected is a "drop-in" type.
This article is valid for the 2017 version and later.