When creating a new project, it is possible to import an image to use as a base for the creation of your project in DomuS3D.
There are two ways to do this:


1. "New Project" Window
From the NEW PROJECT window, select "Load Blueprint Image" and select the image file to import by clicking on the "Select" button.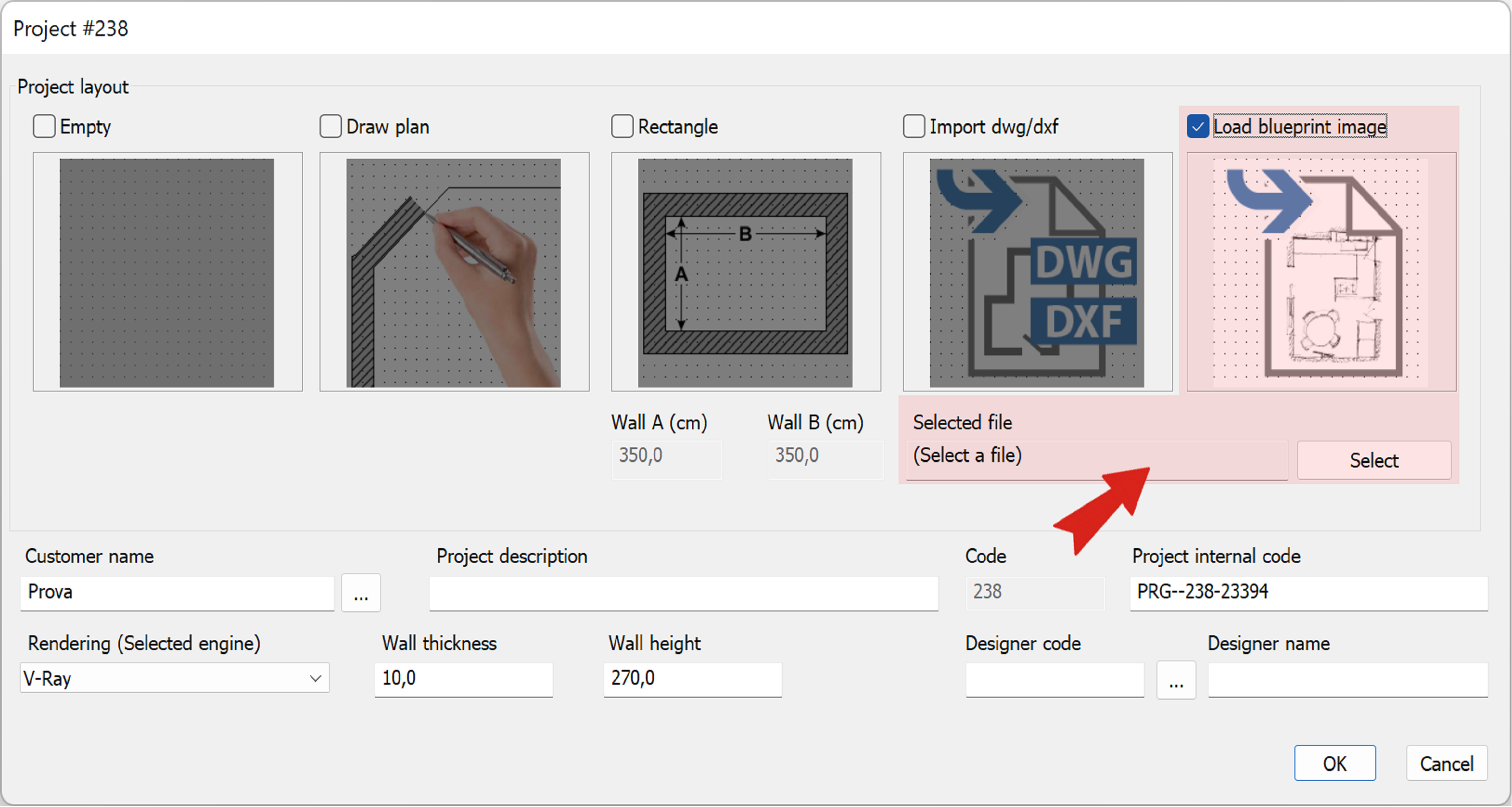 After importing the selected file, DomuS3D automatically assigns the file to its own layer, allowing for a more organized and clear management of the workspace. This allows users, once the imported image is no longer needed, to simply hide the layer that contains it.
(To learn more about how Layers work, read this article)
A pop-up message to inform users that the image has been assigned to the Image layer will appear, with the possibility for users to subsequently hide the message if the concept is clear.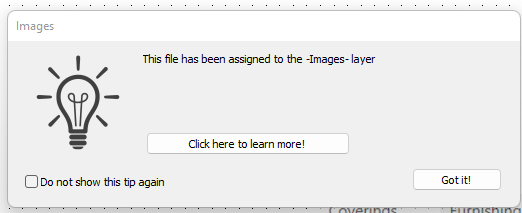 After the image file has been imported, it is possible to proceed with all the necessary commands, such as, for example, scaling the image, done by right clicking and selecting the "Scale" command. The operation will be guided by suggestions from the program that explain how to proceed.
2. DRAG & DROP IMAGES
In DomuS3D, it is possible to drag and drop an image into your floorplan (i.e. into the Layout window) directly from the IMAGES tab of the Components window. (click here if you aren't sure how to import image into the IMAGES tab)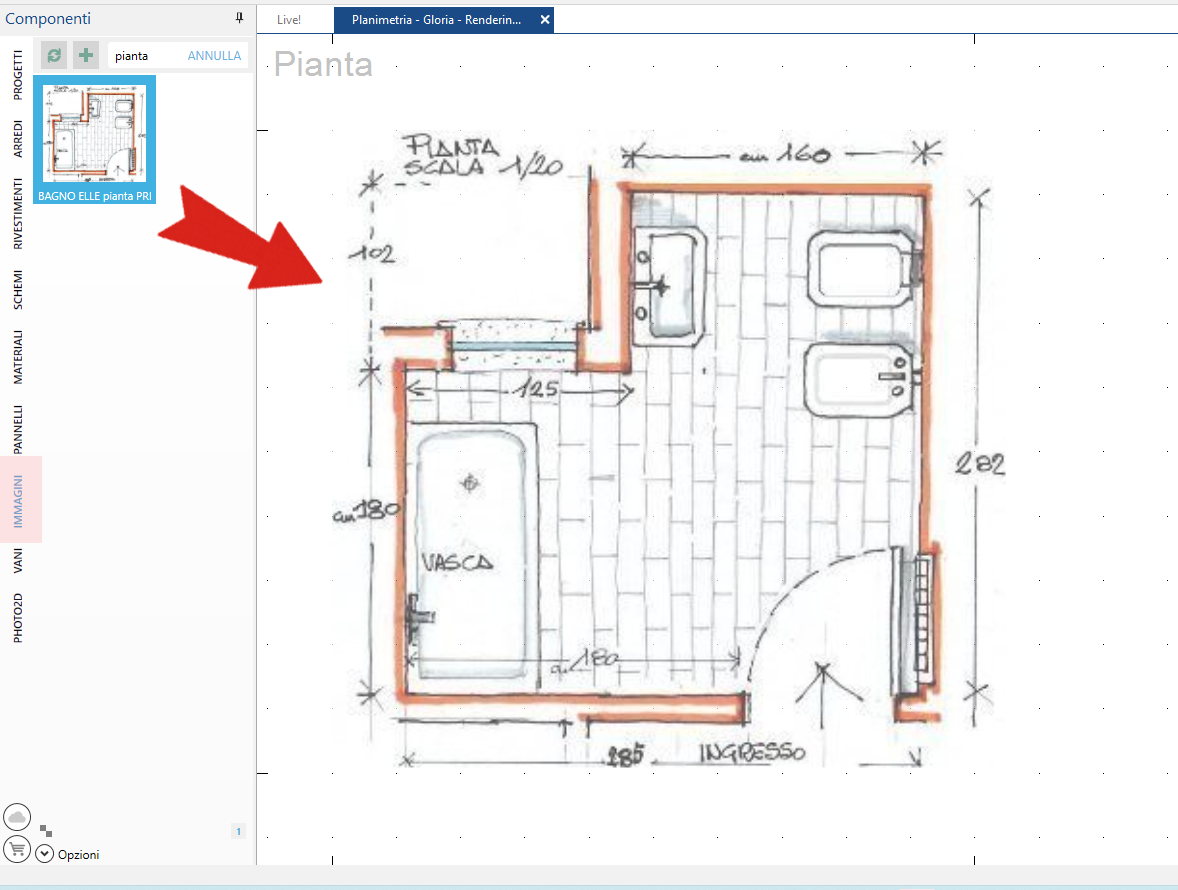 Just like in the first case above, the image will automatically be assigned to a separate layer called "Images". The image will be inserted at the origin point with coordinates (0,0). After it is inserted, it is possible to move it by right clicking and selecting the Move command from the context menu.
The options available in the context menu by right clicking the image are as follows:
Move: reposition the image around the layout window.
Delete: delete the image.
Scale: resize the image.
Lock Layer: lock the "images" layer. A pop-up message will appear to guide the user in managing the layer.
Transforming an Image into a Room
In both of the above cases, after importing the image into the Layout window, you should set the scale: right click on the image and select "Scale" (an automatic pop-up suggestion will guide you through the steps). Before drawing your reference line, activate orthogonality by clicking on the O key of the keyboard.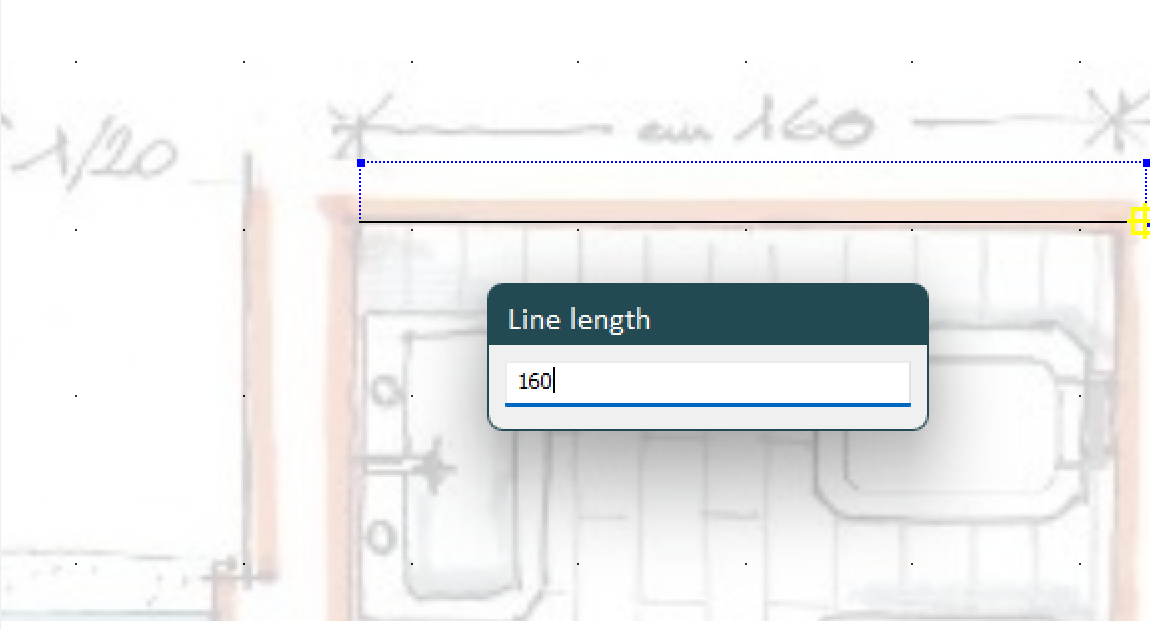 After you've correctly scaled your image, you can proceed with creating your room by using either the "New wall" or "Trace rooms" command. Watch the video here!
This article is valid for the 2022 version and later.