Layers are commonly used in CAD drawings as a way to subdivide the entities that make up your drawing or project. This allows designers to easily turn off and on specific elements of their project depending on their needs.
For example, a designer could assign all written descriptions, textual notes, and quotes to a single layer, allowing them to easily create printouts with and without this descriptive project info. Another example could be to assign bathroom fixtures belonging to one manufacturer/collection to a layer and fixtures from another collection to another, easily switching between two alternative designs for the same project.
The logic behind the use of layers is to create a more organized project structure, especially when dealing with large projects with a high level of detail and a large number of individual elements.
Every new project contains default layers, including a standard layer called "0" and layers for CAD, dimensions, text, lights, and 3DView. Every item that is inserted into a project is automatically assigned to the appropriate layer.

When you click on the Manage Layers button in the main Ribbon (in either CAD or Virtual navigation), a window with a list of the existing layers will appear with the following commands: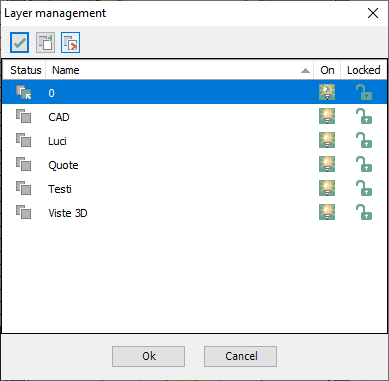 Make current: sets the current layer. To set the current layer, select a layer from the list and then select this command or double click under status. The current layer will be indicated in green with a white arrow.
Add layer: this button will add a new layer with the default name "Layer" + successive number. You can change the name by double clicking it.
Delete layer: if a layer is non longer necessary, you can delete it using this button. You cannot delete the current layer or a layer that contains any elements in the project.
/ Turn on/off: the light bulb icon shows whether a layer is on or off. Turning on/off a layer only changes whether the objects in the layer are visible in the project. Objects in a layer that is turned off will not be displayed in your design and will be ignored in any prints, renderings, or estimates, even though they are still part of the project.
/ Lock/Unlock: locking or unlocking a layer affects the ability to make changes to these objects within your project. When a layer is locked, the objects assigned to this layer cannot be changed within the project.
This article is valid for the 2017 version and later.