If you need to remember which materials have been assigned to an object, you can open the Layout window, click the right mouse button on one of the object lines, and select command Properties.
As you access the properties mask of the object, go the Materials section, as you can see in the next image.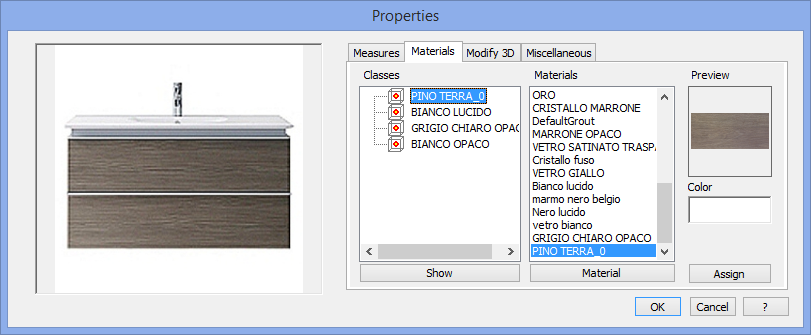 Material names are language independent, and usually are the names given by the designer of the 3D object.
If you can't understand which material is which, click the Show button and select Selected class option: in this way the Application will show you just the layer (called Class in the Application) you are currently selecting.
Try selecting a different class and see how the object preview changes consequently. The list on the right side of the mask tells you which material has been assigned to the selected layer.
By clicking the Material button, you can modify this material (the effects, for example) or load a new one and assign it to the layer. Indeed, this is not the easiest way to assign a material: in the next paragraph you will see a quicker way of assigning materials to object classes.
This article is valid for DomuS3D® 2017 and later versions