When you insert elements for which affinity relations have been set, the application shows (in a proper section on top of the Components window) a group of elements that are compatible (and/or similar) to the one inserted.
An example of affinity can be the following: if you insert a bathroom furniture, a similar/compatible element could be the top/s that can be combined with it: But also sanitary ware that come from the same collection.
Affinity relations are determined by the Catalogues Department when creating the database. By moving the mouse to the left or clicking on the arrow highlighted in the next image, you will go back to viewing the whole catalogue.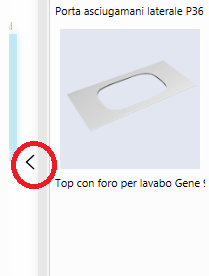 The last elements inserted in the project, for which there are affinities with other elements of the catalogue, are grouped in a new section of the Components window, called Workspace. It is shown in the next image.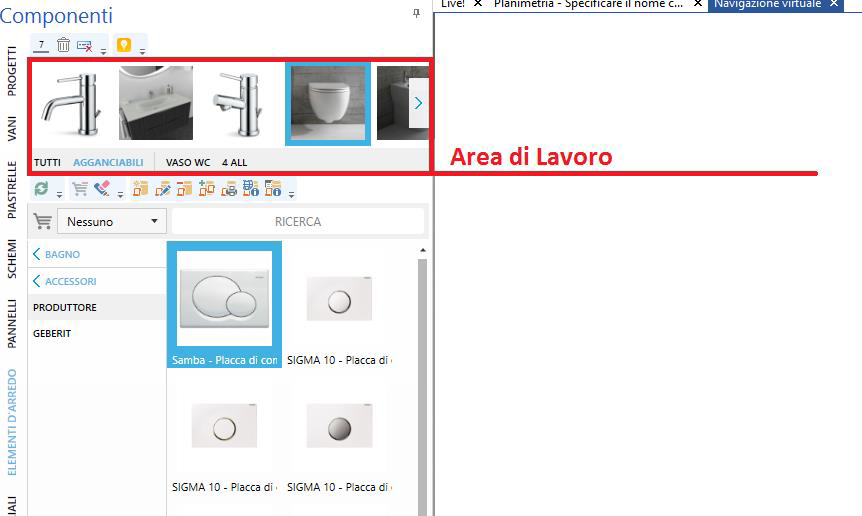 By clicking the right mouse button on an element, you can ask the Application to add it to the Workspace of the Application, in order to find it quickly later on. In a way, Workspace is also a sort of Like list where to pick from.
By operating in the Workspace it is possible to filter, in the Components window, the elements of the same collection or the ones that can be hooked to the selected element.
Let's consider, for example, the process to create a (bathroom) piece of furniture:
1. We will select the bathroom furniture on the Components window, in the usual way
2. Then the Components window will automatically show all the elements similar to the piece of furniture inserted, among which we will surely find the top (for the washbasin) compatible in shape and dimensions. Thanks to the automatic hooking we will now be able to insert the top with a single click (note: if the application does not show any similar element it might mean that the article has been drawn before January 1st, 2016 or that it does not have any).
3. Last, in the Workspace, we will select the inserted top and click on HOOKABLE as to have the Components window showing us the elements hookable to the top (washbasin , taps, …). Thanks to the hooking system, the insertion of the tap at the correct elevation and position will be simple and immediate.

This feature is only available for elements created from January 1st, 2016 onwards.
This module allows to filter the results according to the collection, set and hookability.
If you click the right mouse button over the element, you can ask the Application to suggest you compatible elements for that item, as well as show the elements contained in the Collection the item belongs to
This article is valid for DomuS3D® 2017 and later versions