What about if you have not been paying attention to the grout color when you tiled floor and walls? You can change the grout color even later on, in 2 different ways.

First option is to open the Materials section of the Components window while navigating the room; select the Color typology, and choose the color you want to assign to the grout. As seen in the previous paragraph, drag&drop the colored material to the surface the tiling refers to: it will highlight in order to let you realize the destination before releasing (dropping).
The Application will then ask you if you want to apply that color just to the section you have selected (Wall strip tiles), to all the similar strips in the other walls of the room (Room strip tiles), to the entire wall (Total wall tiles), or wherever in the room (Total room tiles).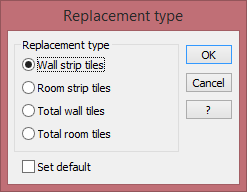 Notice that this procedure can be used just when the grout size is greater than zero. Moreover, you can also apply textured materials to the grout, such as Masonry, Generic, Putty, ….. Try out and see the result zooming the Navigation view very near the grout, and you'll see the details of the material.
You have, also, the opportunity of changing the grout color using a free color from the WindowsTM palette. From the Navigation window, click the right mouse button over the wall (surface) where you want to change the grout color: select the command Floor/Wall/Surface 2D.
You will open a window where you can see the wall (surface) in 2D. Open the WALL section of the Ribbon, and in the Wall group of commands click the Modify button. Finally select Grout color command.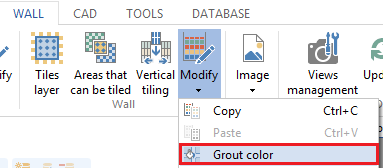 The Application will ask you to specify the section of the wall (surface) you want to change: click the left mouse over it, and decide the color you want to use. Last option is to specify if you want to change the grout color of the tiled area you pointed out only, or the grout color of the all room.
Note: this way of working will let you see the difference also if grout size is equal to 0; in this case, in fact, the Application draws a thin line in the 2D (Floor/Wall/Surface 2D) window, so that blueprints for installers let them better understanding the way of laying tiles.
This article is valid for DomuS3D® 2017 and later versions