The previous feature is very quick and useful when you need to tile the floor with just one tile. If you need to cope with more than one format, or with more complex patterns, Dynamic patterns are your solution.
Open the Navigation window, and select the Patterns section in the Components window. Search the pattern you want to work with, and check the control panel in order to:
1. Set the operation mood on the floor button
2. Set the grout value and color you need for the floor
3. Set the destination to Current room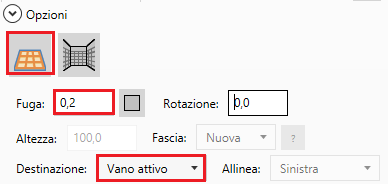 Finally, drag&drop the pattern on the floor, as you can see in the following image.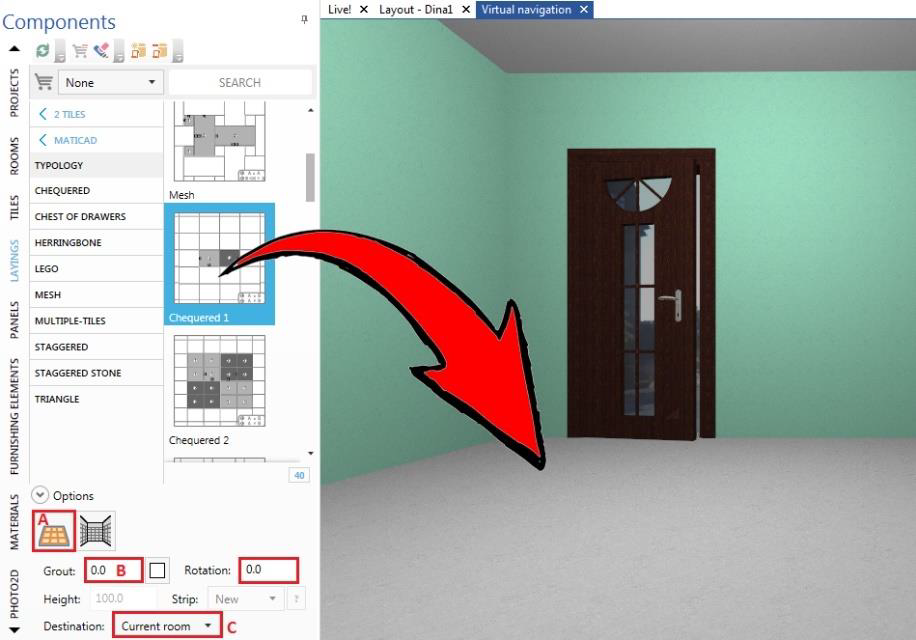 Now select Coverings section in Components window, search for the tile you want to apply, enable the button tool-tipped Change similar tiles (A), finally drag&drop the tile inside the red slot (this pattern is divided in red and green slots: those colors help you understanding which parts of the pattern still have to be covered by a real tile).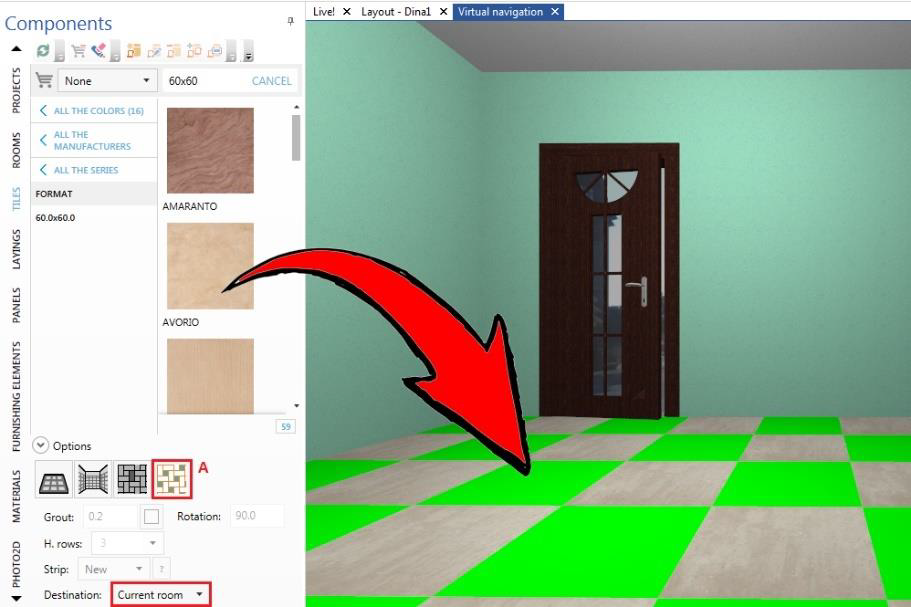 You will see that the dynamic pattern resizes depending on the tile size. Drag&drop the second tile on the remaining slot (green) in order to complete the pattern.
With more complicated patterns (different tile formats) it may happen that the formats you select are not compatible each other. In this case the Application will notify you about the incompatibility, and the list of formats in the Components window will let you see the compatible formats (in green color), and those that are not (red color). If you made any mistake, click UNDO button (or Ctrl + Z ), and drag&drop again the pattern. The Application will automatically take care of removing the old floor.
Among the most used dynamic patterns on the floor (apart for classical ones such as solid, staggered, herringbone…) nowadays you can find the Staggered ones, that provide you a random position (offset) for the tiles available in the scheme.
Anytime you will lay down those schemes, you will see a different alignment of the tiles, thanks to a random algorithm. Don't you like the alignment? Lay down again a tile, and you will have a different one!

This article is valid for DomuS3D® 2017 and later versions