Freehand drawing is usually the most common way to create a customized project layout because it allows you to draw and represent any geometric shape with precision. This command can be activated in different ways: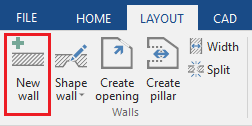 Typing the key combination Alt + W to execute the "New Wall" command.
When you select the "New Project" command, a window opens that allows you to speed up the drawing phase in the case that the room that you wish to draw has a standard shape (see figure below).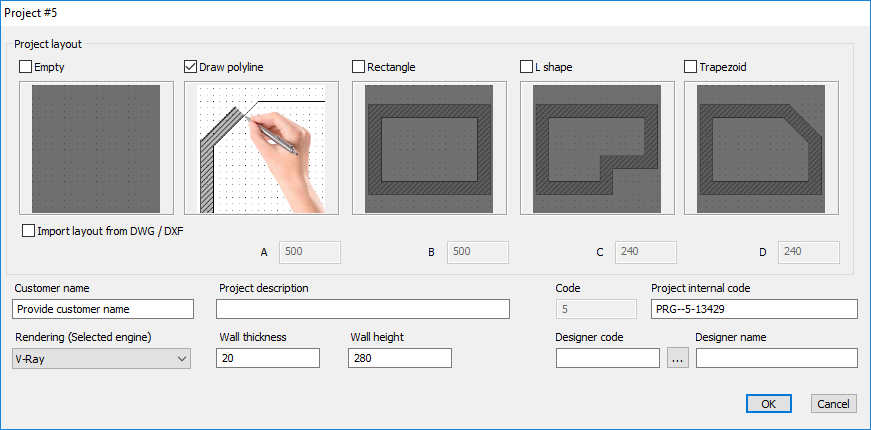 In this case, in fact, it is possible to open a new empty project (without activating any commands), draw the layout freehand by using the polyline command, or choose from among the most common geometric shapes of the room and setting its dimensions. You will be able to make changes later by using the many available commands for editing the layout within the program.
If you choose to manually draw a polyline, the "New wall" command is already active when you open the project, so your first step is to click any point in the drawing area. While you are drawing the walls of your room, you can hit the "O" key in order to activate/deactivate the orthogonal mode, which blocks the direction of new walls to either horizontal or vertical, therefore keeping all walls perpendicular and allowing you to easily draw with precision (the same result is obtained by selected the orthogonal button in the status bar of the application in the bottom right corner).

Indicating with the mouse the direction in which you want to draw the wall, you can edit the numerical value of the length of the wall and hit the Enter key in order to draw the wall. If you insert a point in the wrong position, it is possible to undo the last point and go back to the previous point by clicking the right mouse button and selecting the command Undo point.
It is always possible to close the polyline of the room even without manually clicking on the same point as the first and last point of the room by simply using the right mouse click and selecting Close room from the context menu. It is also possible to leave the environment open, without closing it, by selecting the command End from the context menu: in this manner, however, a room is not created and so you will not have either floors or a ceiling, but only one or more series of sequential walls.
This article is valid for the 2019 version and later.