The program creates automatic backups while you are working to safeguard your work against unexpected irregularities or shutdowns.
If DomuS3D unexpectedly closes, it will ask you if you would like to recover the file that you were working on once you restart the program. If the problem persists, or if the recovered file does not contain the most recent changes, there is a second method to access the file:
A backup copy is automatically saved each time the project is opened. This backup file is saved in the folder "…\DomuS3D 2018\Project\bak".
To import this file, start the program and close all open windows.
Press the CTRL and F12 keys simultaneously.
The window shown in the image below will open. With this window, you can select your project file: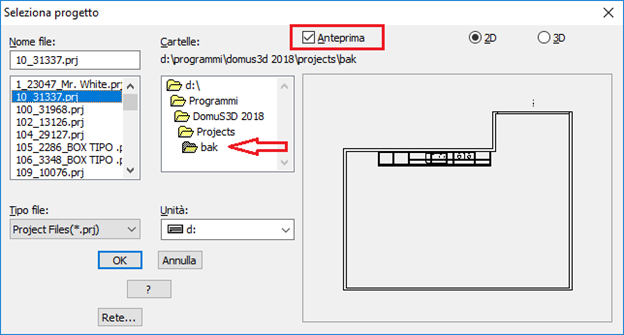 It is possible to use the "Preview" flag to view a preview of the layout and locate the desired project file.
Click the "OK" button to open the project file.
This article is valid for DomuS3D® 2018 and later