The Application can provide you the calculation of used materials. If you want to open the Estimate window, go to the Layout window, open the TOOLS section of the Ribbon, and click the button Calculate:

This command is available in the Layout Ribbon only. A second way to open the Estimate window (from wherever you are in the project), is to use the related shortcut: Ctrl + P .

This window contains a spreadsheet where you can find all details about the items available in the project.

If you make any modification in the project, remember to click Update button in order to see the up-do-date information about material quantity.
If you're dealing with a multi-room project, you can group the materials room by room.
If you click the title of any column, you can change the order of the estimate records; in this case you can order by quantity, price, typology, etc…
If you click the column's title, and you keep the mouse pressed, you can move the column so that the order in the table is the one you prefer to see (an example is available in the next page images).
If you click the right mouse button over a record, you can see this list of commands.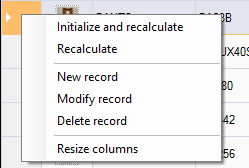 New record allows you to create a new item in the estimate (also called non-graphic item). Such item will not be graphic, as it does not come from the Components window (e.g., could be some hardware for the kitchen units, or electrical equipment, … that you do not see in the Navigation window, but still need to consider in the project estimate).
Modify record: you can change some item details in the estimate. Such a modification does not affect the item in the Application library, but just the one available in the project. Note: you can also double click a record to access the modify record mask.
Delete record: allows you to temporary delete an item from the estimate. Consider that if you calculate the estimate again (e.g., by clicking the Update button) all graphic entities which are in the project will be calculated again and placed in the estimate, despite the fact that you formerly deleted from the spreadsheet.

Recalculate: the application calculates again the estimate, considering all items that are in the project (graphic items).

Initialize and recalculate: the application deletes all estimate (including non–graphic items) and calculates again the estimate. With this feature you will loose non-graphic items, formerly manually placed.
if you click the Unit Measure control, you can change the unit measure of a single item: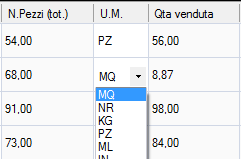 Remember , indeed, that the item's unit measure will not change in the Application database, but in this project only.
This article is valid for DomuS3D® 2017 and later versions