To adjust the settings and choose options within Render Manager, click on Options

.
The following window will appear: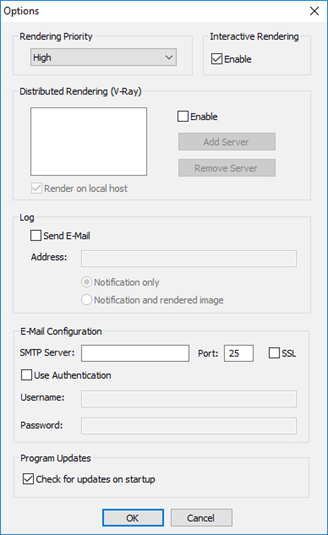 If you want to use Render Manager on the same computer where you will continue to work (with either DomuS3D or other applications), we recommend setting the priority level to Normal or Low. Without this adjustment, it will be difficult for you to continue using your computer for other activities while rendering.
When you will not be using your computer for other activities (if you render overnight, for example), set the priority to High.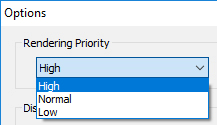 In the Distributed Rendering (V-Ray) section, you can enable distributed rendering if you are using the V-Ray rendering engine; this option lets you distribute the processing power needed to render over multiple computers (max. 10) to reduce the overall time needed to complete the rendering (proportional to the cores that the other computers can share). Distributed rendering requires that you have this service installed on all the computers that you would like to involve in the rendering process. You can add new computers to this service by indicating their name within a VPN or indicating their IP address.
In the Log section, you can indicate an email address at which to receive a notification when your rendering job is completed. You can also choose to attach your final rendering image to this email notification. This automatic notification lets you continue working on designing while knowing that the Server will let you know as soon as each rendering is completed and ready. In the E-mail configuration field, you will have to insert the needed server information for your LAN, which must have email messaging without user profiling enabled (this setting may be limited to LAN only for security measures). You will also need to have an email client installed on the computer where you are running Render Manager, and the client must be associated with the Windows user profile you are using with Render Manager.
this article is valid for the 2017 version and later.