In order to place a new light in the scene, get to the Layout window, right click the mouse anyway in the desktop and select command New light (or open the VIRTUAL 3D group of the Ribbon, and select New light in Lights group).
You will be asked which kind of light you want to create:
Electric bulb (circular and omnidirectional light) needs you to specify position and beam amplitude (check out this article to learn more about this);
Spot light, where to specify the position, the focus (target) and the beam width,
Finally the Neon, which is a linear light, so you need to define the line where to lay down the light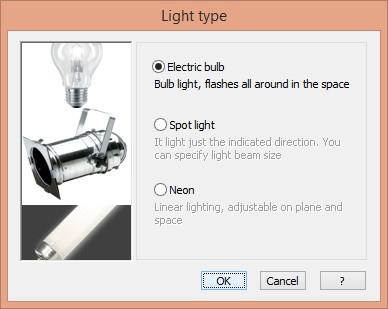 A different way of placing lights is to go to the Components window, in the lights section, then Drag&Drop a light to the layout.
Here you can select already prepared lights mostly including IES files (refer to Artificial lights in the mental ray and V-Ray paragraphs in order to deepen your knowledge about lights).
This article is valid for DomuS3D® 2017 and later versions
Tags:
luz
KB166
luci
lights