It is possible to assign a name to 3D objects (created using the CAD 2D tools) as well as lights. In this way it is easier to locate and select the needed item when you are in Layout and Navigation window.
How to assign the name:
Select the item with the left mouse button, then change the name field in the PropertyGrid
Double click the item and open Properties mask: edit the name field and assign or modify the name
Click the right mouse button on the object/light and select Properties
When objects and lights have a specific name, one you have to select overlapped items you can choose the one to work with thanks to the selection panel you can see in the next image.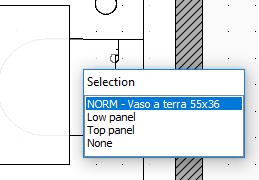 This article is valid for DomuS3D® 2017 and later versions