With complex laying patterns containing multiple shapes and sizes of tiles (see example below),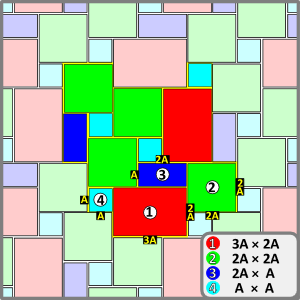 you will run into an error when the tiles selected are not compatible with one another when trying to insert them into the pattern. In this case, the program will alert you of the incompatibility with the following error message:
Not valid format. Compatible formats will be highlighted in the components window.
The list of sizes in the components window will highlight compatible sizes in green and incompatible sizes in red. If you receive this error, reapply the dynamic pattern to your surface to reset the pattern, setting the grout equal to 0. Ensure that the tile sizes you want to apply respect the geometric constraints specified in the bottom right corner of the laying pattern preview:
This article is valid for the 2017 version and later.