You can assign a material to the walls or the ceiling dragging it from the Components window.
Nevertheless, as you may have a lot of walls in the project, that way of working might be time consuming.
That's why the Application gives you a way of assigning the same material to all the classes available in the project: get to the Layout window, and select the needed material from the Materials Group in the Components window (for example: Masonry -> Cement).
Drag and drop it in an empty area of the layout (without interfering with any object line). A mask will popup, containing all the available generic classes of the project, as you can see in the next image.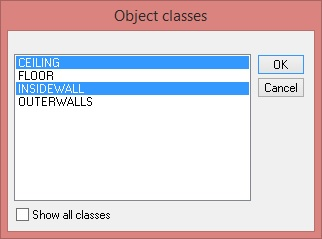 If you select INSIDEWALLS you will apply those material to all the internal walls of the project with 1 click.
The classes you see in this image refer to the generic architecture of the project, but if you enable Show all classes control, you can see also the classes contained in the objects available in the project.
This article is valid for DomuS3D 2017 and later versions