In the Layout section you learned how to draw closed shapes by using the 2D CAD Tools (We saw it in order to draw a room).
The same concept can be used in order to draw simple objects, such as a countertop, a step, a base… Once you have designed a closed shape with 2D CAD Tools, click the right mouse button over one of the shape lines, and select command Create object.
Application will ask you to specify the height of the object, its elevation from the floor, the basic color (that, indeed, will be overlapped by textured materials, if you'll apply them later on).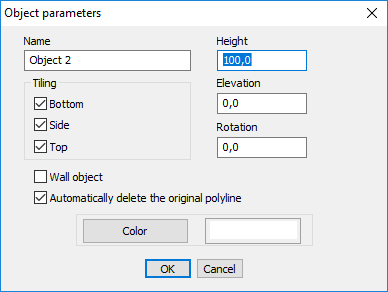 As you click OK button, you'll get back to the project layout, where you can move the object and place it in the final destination.
This article is valid for DomuS3D® 2017 and later versions